Great Pilot Shirts That Fit
When buying a pilot shirt you know there is a problem when the only information you need to provide is neck size. For those of us who are on the skinny side this is more so an issue as basic pilot shirts tend to accommodate all pilot sizes, thin to "not-so-thin". For me, these shirts are baggy, they feel uncomfortable and look sloppy. Not a great look for someone responsible for passenger safety.
There are a few options. You can buy a shirt from a tailor, custom fit. This shirt will look great, but the cost will be on the high side. You could take an existing shirt and have it altered. This will also cost you. In fact, the alterations may be similar to the actual cost of the shirt.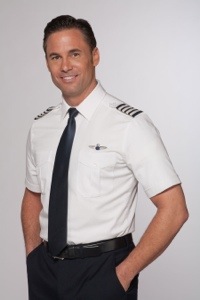 There are people out there who have recognized these issues. I found a company called A Cut Above. All I did was Google "fitted pilot shirts" and I found them.
A Cut Above is a US company based in Colorado. They sell short sleeve pilot shirts for men and women in fitted, tapered and relaxed fits, and in different fabric options. They do have other products, including pilot pants, and accessories.
Based on my build, I decided to order a few pilot shirts in the fitted format with the polyester/spandex combination. I also choose the winglet holes to be tailored in for a few extra dollars.
Cost:
I ordered 5 shirts for a total of $144.75 ($28.95 each), plus shipping to Canada at ~$40, and import duties and taxes of ~$40.
Pros:
First of all, the fit is great! For my build the shirt looks and feels good with no extra fabric.
The polyester/spandex feels really soft, and is very wrinkle resistant! After a full day of flying there are very few wrinkles, even on the back.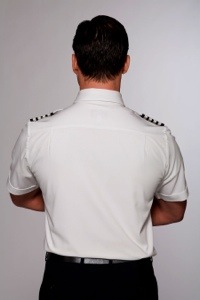 Because of the spandex there is a little bit is stretching making movement very easy. Many fitted shirts don't have the stretching ability, making the wearer feel restricted.
These pilot shirts also have a unique inside "cool and dry" collar that minimizes pressure contact.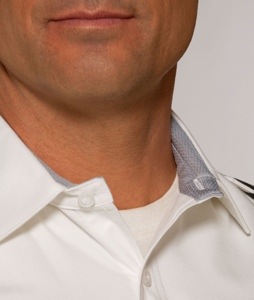 I hate when my shirt become untucked throughout the day. The Cut Above shirt has a longer than average tail making this a non-issue. By the way, I am 6'0″, but if you are taller there is a tall option.
The two front pockets are open at the top with a "fake" button pocket look. At first I did not like this, but for appearance it makes the shirt look pressed. Inside each pocket there is also a smaller pocket to hold a pen.
They are machine washable.
Cons:
I live in Canada, so the normal issues of buying and shipping exist, but are minimal. The shirts were Made In China, so I did have to pay import duties and taxes after shipping costs.
Although Cut Above does have a few exchange and return options, there are some differences when living outside of the US. Basically, I would have to pay for the shipping back to Cut Above for exchanges and returns.
Summary:
I really like these shirts. They are comfortable, fit great, and look good too. I would recommend these shirts to other pilots.