Tell your MP why fatigue rules are important
This post may contain affiliate links. If you use these links to buy something I may earn a commission. I am an Amazon Associate. As an Amazon Associate I earn from qualifying purchases.
We are just under a week away from the new Canadian Liberal government announcing Justin Trudeau's cabinet. When the cabinet is announced, it will be important to remind the new Minster of Transport, and your local MP, about how significant revisions to the current pilot fatigue rules are.
Just to recap, in September 2014 Transport Canada issued a Notice of Proposal Amendment regarding pilot fatigue management. I talked about these changes a few days after the proposal was published. Transport Canada based its recommendations on consultation with a whole slew of professionals and experts. They believed these changes would "reduce flight crew member fatigue related error and accident rates and thus enhance safety."
In August 2015, a more finalized version of changes was published in the Canada Gazette, the official newspaper of the Government of Canada. This new version does contain some of the original recommendations. However, it has been vastly reduced to only a handful of changes.
[box]
2014 Proposal vs. 2015 Proposal
Click the chevron to expand:
Below is a table of the proposed changes from 2014. The right column shows the changes. The "X" means the change was removed. The "-" means the change was reduced. The "=" means the change was left as is. The "+" means additional changes were added.
| | |
| --- | --- |
| | 2015 Canada Gazette Part 1 |
| Definitions | |
| Air Operator Responsibilities | |
| Flight Crew Member Responsibilities | |
| Prescriptive Fatigue Management Documentation | |
| Nutrition – Providing the Flight Crew Member with Food and Drink Opportunities | |
| Records of Flight and Duty Times and Rest Periods | |
| Flight Duty Period | |
| Flight Duty Period – Aerial Application Operations | |
| Extension of Flight Duty Period Due To In-Flight Rest | |
| Unaugmented Long Range Flights | |
| Ultra Long Range Operations | |
| Unforeseen Operational Circumstances — Pilot-In-Command's Discretion | |
| Unforeseen Operational Circumstances — Short-Term Re-Planning — Pilot-In-Command's Discretion | |
| Delayed Reporting Time | |
| Cumulative Duty Hour Limitations | |
| Flight Time Limitations | |
| Positioning | |
| Split Duty | |
| Standby | |
| Airport Standby | |
| Rest Periods | |
| Time Free From Duty | |
| Additional Rest Due To Disruptive Schedules | |
| Additional Rest Due To Time Zone Differences | |
| Consecutive Duties Infringing on the Window Of Circadian Low | |
| Determining Flight Duty Period Table Start Time | |
| Fatigue Management Training | |
| Controlled Rest on the Flight Deck | |
[/box]
One of the most significant holes is that the new rules would only apply to 705 (airline) operations. Smaller operations would still exist under the older, outdated, regulations until they can be updated at a later date. This is a double standard for aviation safety, saying the safety of bigger airlines is more important than smaller. Many Canadians don't realize how important aviation is to so many northern communities. Smaller operators fly smaller aircraft all over the north, sometimes referred to as bush flying. The hours are long, labour intensive (no ground staff to load bags, give passenger briefings, clear snow off the wings), and at all hours of the day. Compared with the average airline pilot, there is a much higher risk of fatigue.
While operators are complaining about the cost of implementing these safety changes, it is important to note that Canada is one of the last major country to do so. We fall behind Australia, United States, India, United Arab Emirates, United Kindom, and the European Union. This has been a long time coming and should be no shock.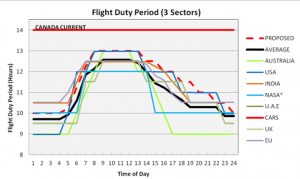 Ironically, many of the bigger 705 operators already have internal rules that exceed the current and proposed fatigue regulations. So, if the rules as seen in Gazette do come into place, there will likely be little effect. The pilots of small operations that need the most protection will not see any changes in their rules unless the government blankets fatigue rules to all commercial pilots.
Write to your MP and the Minister of Transport
I encourage everyone to write to their MP and the Minister of Transport to explain why having science-based, internationally recognized, fatigue regulations is the right choice. For us pilots, we can all likely recount some fatigue-related moments in our careers and it is important to talk about. It is also important for to pilots stop ignoring the signs of fatigue and speak up.
How to contact your MP
You can find contact information of your MP here.
You can send letter mail to your MP, postage free, by using this address:
Name of Member of Parliament
House of Commons
Ottawa, Ontario
Canada
K1A 0A6
Contact information for the Minister of Transport will be available at a later date.